পরীক্ষাতে ফোন Benchmark এবং কার্যকারিতা তুলনা করুন
মোবাইল ফোনের ক্ষমতা অনুযায়ে BROWSER বেছে নিন যে সব কাজ সাধারণ BROWSER করতে পারে না
FPC Bench সংস্করণ 3 1 পরীক্ষা করতে একটি মুক্ত জাভা benchmark এবং অন্যান্য ফোনের সঙ্গে একটি ফোনের কার্যকারিতা তুলনা করুন। অন্যান্য benchmarks থেকে আলাদাভাবে, FPC Bench ভালো ; এইটি আরও বেশি নির্ভরযোগ্য ফলাফল পেতে একটি ভাল রাস্তা। FPC Bench কার্যকারিতা পরীক্ষা করতে একটি সম্পূর্ণ পরীক্ষা সরঞ্জাম এবং।
FPC Bench সংস্করণ 3 .1  এ   নতুন:
Many new features and bug fixes:
Added a test to check for maximum memory capacity:
FPC Bench is now able to output the maximum amount of allocatable memory by JVM.
FPC Bench is now able to detect NEW important APIs:
JSR 271: Mobile Information Device Profile 3 (MIDP3).
JSR 272: Mobile Broadcast Service API for Handheld Terminals.
JSR 300: DRM API.
Capuchin API:
FPC Bench is now able to check for Capuchin API support.
FPC Bench 3.1 now runs on phones without 3D capabilities (JSR184).
CPU/Memory benchmark (single threaded and multi threaded)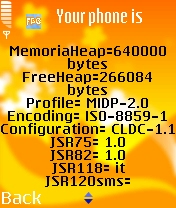 GPU Graphics Benchmark: 
Low level, one spotlight.
Low level, two spotlights, textured.
Simple mesh, directional light.
Simple mesh, UV-Mapping, Catmull-Clark.
Perspective correction, ambient light.
Complex mesh, dynamic ligthing.
Complex mesh, multitexturing.
Particles simulation, dynamic lighting.
NetMeter benchmark (GPRS, EDGE, UMTS, HSDPA, HSUPA, WIFI speed) 
Check for total heap memory size
Check for free heap memory size
Check for touch screen pointer events under the Java environment
Check for full screen's maximum resolution in a Java canvas
Check for double buffering
Check for RMS size
Check for RMS speed (external/internal memory speed)
Check for available profile/configuration
Check for the latest APIs: -JSR 75: File System access API.
-JSR 82: Bluetooth/OBEX API.
-JSR 118: Mobile Information Device Profile API.
-JSR 120: Wireless Messaging API (WMA 1.1).
-JSR 135: Multimedia API (MMAPI)
-JSR 139: Connected Limited Device Configuration 1.1
-JSR 172: Wev service specification.
-JSR 177: Security and Truste Services API.
-JSR 179: Location API.
-JSR 180: SIP API.
-JSR 184: Mobile 3D Graphics.
-JSR 185: Java Tech for Wireless Industry API.
-JSR 205: Wireless Messaging API (WMA 2.0).
-JSR 209: Advanced graphics and user interface.
-JSR 211: Content Handler API.
-JSR 226: Scalable 2D vector graphics for JavaME.
-JSR 229: Payment API.
-JSR 234: Advanced Multimedia API.
-JSR 238: Mobile internationalization API.
-JSR 239: Java binding for OpenGL ES.
-JSR 248: MSA Umbrella.
-JSR 248: Fully featured MSA.
-JSR 256: Mobile Sensor API.
-JSR 257: Contactless communication API.
-JSR 280: XML API.
Check for real time 3D graphics features:-maxLights.
-maxSpriteCropDimension.
-maxTextureDimension.
-maxTransformsPerVertex.
-maxViewportDimension.
-numTextureUnits.
-Antialiasing.
-Dithering.
-LocalCameraLighting.
-Mipmapping.
-PerspectiveCorrection.
-TrueColor.
This application runs on all types of Java Micro Edition MIDP1 and MIDP2 platforms
Download Link for FPC Bench v3.1 Download:
For all MIDP2 Phones (All New Mobiles): FPC Bench v3.1 (520 KB)
For all MIDP2 Phones (MIDP2 phones without 3D capabilities): FPC Bench v3.1 (510 KB)
For all MIDP1 Phones (Old Mobiles): FPC Bench v3.1 (79 KB)